Wall Uplighting
Thu, 09 Feb 2017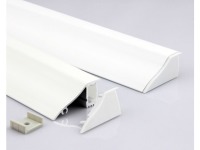 It can be costly to add illuminated coving, ledge, picture rails, canopy lighting, or lighting tray as they are sometimes called. Unless you already have an existing feature the coving has to be made to measure by a joiner or builder.
We stock an Aluminium Wall Uplighting Profile with attractive curved appearance, designed to fit directly to a wall. It has a built-in recess to accomodate our LED Strip, and conceal the wire or cable in the space behind the channel.
By using this channel it could potentially save you hundreds of pounds in labour. For an installation ofthis calbre we we highly recommend using the best LED Strip available - either our Single Colour Constant Current LED Strip or Colour Changeable Constant Current LED Strip.
We can also save you costly cutting and soldering of LEDStrips by electricians with our FREE made-to-measure service.
Below are a few pictures sent to us from a very happy customer. He converted a dark, outdated basement into a very comfortable TV Room.