New Fibre Optic Star Lighting Kit
Thu, 18 May 2017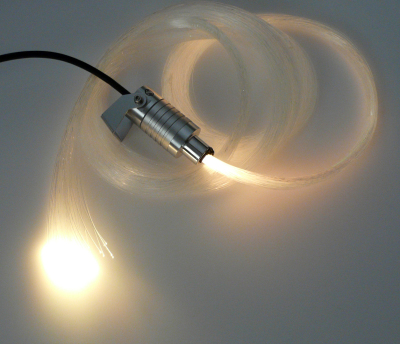 We have developed a high quality low cost Digital Fibre Optic Kit using a proven 3 Watt LED.
The LED is housed in a very compact elegant cylinder with a stand mount. Unlike traditional Fibre Optic Projectors this is digital so there are no noisy unreliable colour wheels, fans, or high wattage halogen lamps to fail.
The running cost is extremely low, just 10p per week, if left running 24 hours a day.
The Kit is available with different lengths and numbers of Fibres. Each Fibre is transparent and carries the light from the light source to where it is fitted. The Fibres are just 0.75mm and 0.95mm in diameter making the point of light tiny, and resembles a bright star at night. We have mixed the thicknesses of the Fibres in order to create larger and smaller stars.
There is also the option of a Single Colour LED Projector in Pure White (5000k) or a Warm White (2800-3000k). For customers that would like to change the colour we have the Colour Changeable Projector. Used with our Lightbox Controller any colour from 16.7 Million colours can be chosen, including the vibrancy of the colour and brightness. There is also a colour change option with speed control. All of this control is from a Smartphone or Tablet via a freely downloadable App.
These kits are ideal for installation in ceilings, wall, floors, even decking and stairs.
See our Free Guide on how to install Fibre Optics in a staircase.
Link to this article from your website
Link to this article:

Embed article link: (copy HTML code below):