New ICELED RGB Flood Light
Thu, 10 Apr 2014
ICELED's latest creation is a 10 Watt RGB LED Flood Light. They have taken a Flood Light case that is widely available and incorporated their RGB Driver circuitry inside which allows it to display over 2 million colours incluing different shades of white.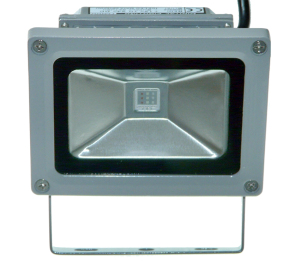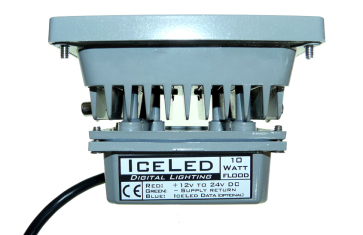 It can be used alone, when powered up it displays white for several seconds before smoothly phasing through the entire colour spectrum which takes around 90 seconds, it is on a loop so will continue changing colours unless switched. It can be frozen on any colours by briefly switching the power off then back on again.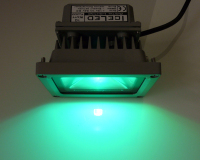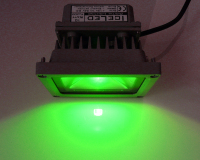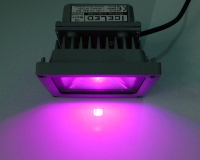 For more control the RGB Flood Light can be connected to a ZEN (Infra-Red Remote) or ZAP (Wired) Controller, DMX 512 Bridge etc (for control via DM X Console). The ZEN this permits full 4-Zone control over the colour range and colour palettes and even a sound to light option for response to music or other sound stimuli . Where required up to 14 x 10w RGB FLood Lights can be controlled from a single ZEN and 10A Switchmode Power Supply.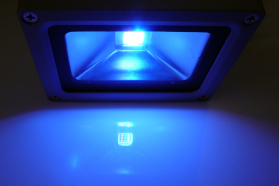 It's low operating voltage of 12vdc to 24vdc makes it safe for gardens, water features, and outdoor areas.
The ICELED Circuit makes maximum brightness of the LED possible to the LED Manufacturer's specifications without any detriment to the overall lifetime of the product which is rated at a true 40,000 - 50,000 hours. Many companies selling the cheaper Chinese versions will claim this but how many of them will still be working after a year, when the warranty has expired. We know the ICELED Floods will outlive them.
The ICELED RGB Flood Light is the only choice for a professional product that will stay the test of time. Other ICELED Products are still in everyday use after being sold to customers way back in 2003.
Those that have been following the ICELED range, will know already that ICELED is a U.K company with superb quality and reliability of the products they produce.

Link to this article from your website
Link to this article:

Embed article link: (copy HTML code below):