Wi-Fi Colour Controller for control of our Mood Lighting Products
Mon, 11 Jan 2016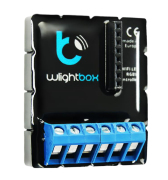 In the Autumn of 2014 we launched the Lightbox - a Bluetooth Smartphone/Tablet colour controller. It now has a big brother the wLightbox with Wi-Fi control, ideal for where long range control is a necessity.
The wLightbox links wirelessly to a wi-fi router enabling full control over colour, colour intensity, speed of colour change, and brightness via an App or browser.
A free downloadable app facilitates wireless control over the internet or use with any device such as PC or Laptop with a web browser.
The wLightbox has 4 channels for controlling any RGB or RGBW light source, the channels can also be used for dimmer control of single colour light sources.
When the power to the WLightbox is switched on it automatically logs into your Wi-Fi Router using the pre-configured password, this takes just several seconds. It will resume the last static colour setting making it ideal for switching on/off from light switch or automatic activation via an in-line motion sensor such as our recessed PIR Switch. This makes it particularly useful for bathrooms, stair lighting, garden lighting or home cinema installations - the lights will be switched on by the sensor when a person enters the vicinity and will stay on for a preset time.
For installations that require more than 1 zone mutiple wLightboxes can be employed - each can be labelled with a title and description. They can all be controlled via an IP Address or App and can even be electronically linked for synchronised colour changing or control.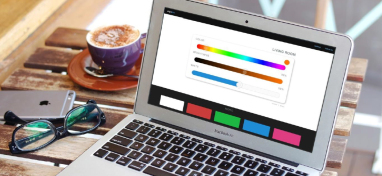 An example where this function has been utilised is for Kitchen Island control. Many customers come to us after all of the wiring has been put in place, usually the wrong type of cable for colour control or none at all. The wLightbox can be used on the Kitchen Island with a power supply only and will link wirelessly to the rest of the kitchen lighting.
Sometimes an installation may require a lot more power than a single wLightbox can handle, that is no problem we can use an isolated Amplifier that takes a parallel feed from the wLightbox, a feed from the end of the RGB Light source or supply cable and reproduces it exactly to provide power to more RGB Light sources.
We can cater forthe largest installation with 100s or 1000s of metres of RGB LED Strip or other RGB Light Sources, all touch-controlled via an on-screen colour picker and menu system.
Full RGB Colour Control - 16.7 Million colours
Can be used as a single colour dimmer 3A (36w) x 4.
Capable of handling a total of 144 Watts.
Password protection to prevent unauthorised colour control.
Range up to 30m, use Wif-Fi extenders for increased range.
Measures just 47× 40 x 9 mm (18 mm with connector)
Designed and Manufactured in Europe to High Standards.
Link to this article from your website
Link to this article:

Embed article link: (copy HTML code below):