ICELED
ICELED is now on it's second generation of LED Light sources which use Triple RGB (Red, Green, and Blue) LED Chips. The colours are combined within the LED Chips making the visible light a pure colour without the shadows and overlapping colours that occur with individual Red, Green, and Blue LEDs.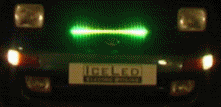 Rather than switching each of the 3 primary colours on and off which would result in just 7 colours each LED colours is digitally controlled to produce 128 Levels resulting in over 2 Million colours. This control gives the ability of smooth colour transitions and even linear moving colours along the length of an LED Tube or tubes.
ICELED Products have been designed with current and voltage control built in for a long lifetime. The ICELED Products offer Full Colour Changing with the capability of displaying 2,097,192 colours.
ICELED Light Sources can be Standalone with basic colour sweeping and colour lock option or with an additional controller.
ICELED Products are designed and manufactured in the U.K using high quality components.
The ICELED UFO LED Ground Lighting Kit