ICELED Colour LED Scanner (V2)
Product Description
Resembling the sequencing Red Lights on Knight Rider's "Kitt" the ICELED Scanner also produces the same effect of a lazy red light with a comets trail scanning back and forth.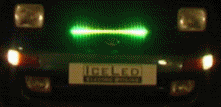 However this is no ordinary Scanner, it contains 24 SMD LEDs with 72 LED elements integrated into 3 primary colours: red, green, and blue for a multi-colour scanner array capable of producing a variety of Scanning Effects with adjustable colours including white. The Length of the Scanner is 20 Inches (50cm).
Based on the same principles as all other ICELED light sources, using no more than a 12 Volt DC supply, this scanner can be left to scan through the rainbow on its own (approx. 2 million colours and shades are possible), or can be frozen to scan on a colour of your choice.
By connecting it's data wire to an ICELED controller such as the UFO or ZAP Controller, you will have full control over the scan colour, speed, and pattern.
Linking the scanner to UFO for example will synchronise the two system so that each UFO pattern produces a unique scan in complimentary colours. This allows sound reactivity, so the scanner patterns also respond directly to music!
The ZAP+ controller is also available, using this will add a scanner pattern selection capability, speed control, and sound to light mode (via the built-in mic)
If used with a UFO Controller, the Scanner will have the ability to show Street legal colours whilst driving, i.e white if the scanner is fitted to the front of the vehicle and red if at the back. It will also give you the full range of 11 modes and speed control (as in the above Video). The sound sensitivity can also be adjusted, and there is a line-in socket from your car stereo - this gives much more accurate light response to music.
Not just limited to vehicles, this product can also be used in the home next to speakers, and in nightclubs, by using a 12v Power Supply.
Gallery

Product Specification
Dimensions
Length 508mm (20") x Dia. 25.4mm (1")

LED

Type

RGB SMD

Number of

LED

s
24
Max current
1.7 Amps
Standby current
0.01 Amps
Operating Voltage
10 - 16vdc
Protection
On-Board Current Regulation
Reverse polarity and over-voltage protection
Product Videos
To achieve the effects in this video a Scanner, UFO Controller, and Audio Link cable were used. The lights under the car are from the UFO Kit
Product Documents
Accessories
For more information about one of the products below simply click the name of the product.