About Us
Litewave was established in 1999. We're lighting enthusiasts with over 23 years experience in LED Lighting and Electronics, specialised in integrating lighting into the buildings, and vehicles. We can assist with any lighting project from start to finish, our practical experience with LED Lighting products can ensure you get your lighting right the first time saving you a substantial amount of money.
Our products are mainly LED based but we also specialise in Fiber Optic Lighting such as End-Lit Fibres for which we developed the first zero moving part (colour wheel-free) Two Million Colour Fibre Optic Projector - the CoolFusion way back in 2006. As expected they are still working to this day.
Over the years we have worked with electricians, project managers, and members of the public that want an LED Lighting system from a single light in their bathroom to a complete mood lighting system. As early as 2004 we were offering colour changing LED Tubes, there have been many advancements made since then. In 2005 we introduced the ICELED ZEN (v1), this offered control from a remote control with sound to light modes. In the last 5 years colour control from smartphones and tablets has become possible by using our Lightbox or WLightbox controllers. These can be networked for control over various lighting around homes and business premises.
Our LED Lighting systems are reliable & long lasting
We are not another company selling cheaply imported LEDs at HUGE markups, these can quickly fade, or fail (not all LEDs last 50,000 or 100,000 hours) causing hassle and inconvenience for customers. We were established in 1999 and have seen the LED Lighting sector explode with advancements in brightness, but unfortunately not reliability.
Seeing the recent decline in the LED market to more cheaply made products, with little (if any) advancement in quality or reliability, we decided to develop our own products using the best LEDs with advanced circuit design. Most LED Lighting products currently on the market only have the bare minimum of protection (usually just a resistor) to reduce the voltage to the LED. This is the most basic principle taught in High School Electronics, it is not going to ensure a long life product used in a home or business environment. It can be take several hours or several days to install an LED Lighting system such as LED Strips around pelmets or the perimeter of a room (depending upon the room size and complexity). It begs the question then, why would anybody want to pay for a no-name cheap LED Strip Light product to be installed that can quickly fail, and need to be replaced after several months to a couple of years.
The picture below shows products supplied by one of our competitors in a multi million pound establishment. This is just one small section of a very large installation, most of which is showing signs of failure due to using an inferior LED Strip.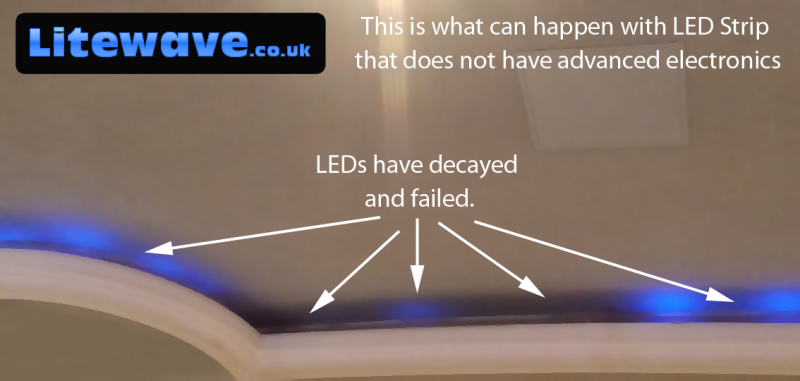 We stock an ever-expanding range of LED products
LED Light Strips have been one of our main products since we launched it for use primarily for kitchen plinth lighting in 2007, it is extremely versatile, lightweight and easy to use. It can be installed virtually anywhere including bathrooms and kitchens.
We are probably the largest supplier of Light Strips and LED Tape in the UK and are renowned for high quality LED lighting that will work years after installation not a few weeks or months. We have tried and tested all types of LED Lights, Tapes and Strips available on the market, good and bad. We are constantly striving to push the boundaries and set the benchmark for LED Strip Lighting and have developed our own Constant Current LED Strip Lighting which is designed to last longer than any other Strip on the market. We take pride that we sell the best quality LED Strips in Europe.
Our colour changing RGB LED Strip and LED Tape can be controlled from a single ICELED ZEN Remote Control or via a Tablet or Smartphone in by using our Lightbox Colour Controllers. They can power much more than just 5 Meter, our control systems can run up to hundreds or thousands of Meters of LED Strip or Tape for large installations, such as restaurants, venues or even in the home. Multi-Lighting Zones are possible with control available over each zone, our colour changing products are inter-connectable allowing many different types of colour changeable lights to be controlled from single device. The end result is an LED lighting system that is practical, stunning, and most importantly, reliable!
Fibre Optic Projectors
Our Fibre Optic Projectors are ideal for illuminating optical fibres for creating Star Ceilings, Star Floors, and Star Stairs, in fact anywhere a small point of light is required. The Fibre Optics we sell are illuminated by our CoolFusion LED Projector. Manufactured in the U.K, it is completely maintenance free, silent running, draws just 6.7 watts of power, and offers an extremely long lifetime. Our first projector is still going strong after being in operation virtually non-stop since mid-2006, it costs just 20 pence per week to run in electricity and is brighter than a traditional 50 watt Halogen projector.
Our LED Products are being used all around the world from inside and outside of homes, to on-board cruise ships, limousines, restaurants, bars, schools, hotels and conference rooms.
No lighting project is to large or small for us to assist with, from planning to completion.
---
We dispatch our products worldwide. So why not browse our range of high quality LED Light products and place an order today for a quick delivery.
Apart from members of the public some of our customers include:
Property Construction & Refurbishments Companies
Ship Builders and Refitters
Councils and Government Departments
Electricians
Hospitals and specialist care facilities
Schools & Colleges
Electrical Wholesalers
Theatre Production Companies
Limousine Companies
Television Companies
Museums
Car & Bike Magazines
TV Motoring Programs
Film Prop Design & Model Companies
Department of Transport
Nightclubs & Bars
The Discovery Channel
TV and Film Production Companies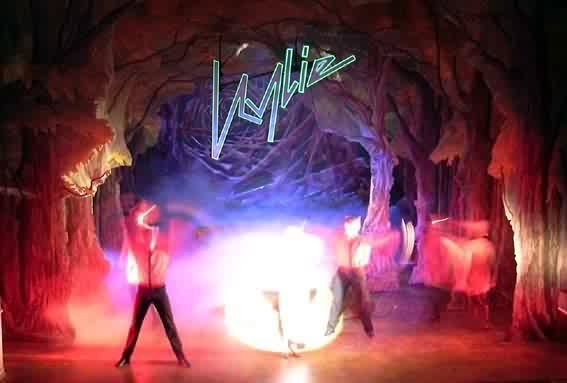 Our products comply with EMC Directives, are CE, Lead free and RoHS compliant and carry other safety certifications where necessary. See LED production facilities.
Litewave ® Ltd. is based on the Isle of Man and is an Isle of Man Registered Company. Company Reg. No. 123640C