Mood Lighting (Colour Changing)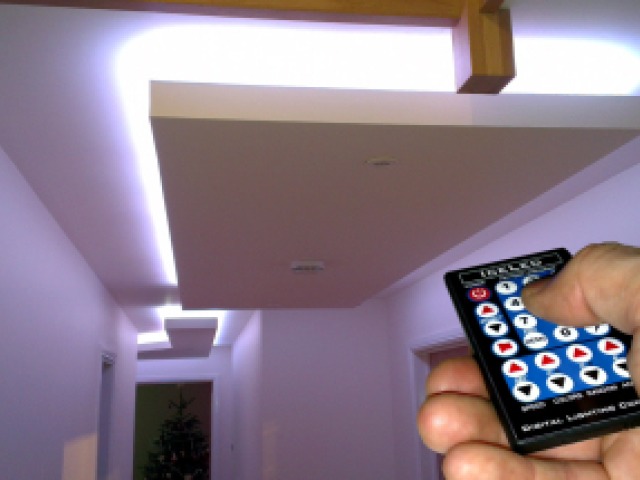 Create a soothing atmosphere with our LED mood lights! Choose from color-changing spotlights or linear strip lights. Our networked systems make it easy to control all your light sources from one place.
Our high-quality controllers are made in the UK and Europe and work with top brands like Lutron, Crestron, Rako, and Control 4. Transform your space with the perfect LED lighting solution!
Click Here for more information
More Information
Unlike many of the amateur 7 Colour Systems available our systems employ Digital Technology giving them a tremendous range of control, and the ability to display millions of colours, providing seamless colour sweeps at the speed and colour range you choose. Select from a vast choice of of whites, pastels, or vivid colours with the ability to freeze a colour indefinately.
Our systems can run just a few Meters to hundreds of Meters of Colour Changeable LED Strip and can be combined with our other Colour Changeable Light sources (shown below). By linking each of the Colour Flexi Drivers with a digital data and ground wire all of the LED lights are kept under the control of the ZEN Controller for synchronised colour changing and Zone control.
This makes our system ideally suited for use in the home & professional use in Hotels, Restaurants, Venues, Conference Rooms, Relaxation / Therapy Rooms and so on.
Safe & Reliable with long warranty, up to 5 Years
Up to 16.7 Million of colours
Display White, Warm, White, Pastels, and Vivid Colours
Colours can be static or change gradually at the speed you choose
Control every Mood Light from the same remote, even with your Smartphone or Tablet from anywhere in the world!
All of our Mood Lights can be controlled from a single controller.
We have a range of controllers available from a simple 2-Button Wired Remote (ZAP) to a Wireless Zone System (ZEN), and a DMX512 Bridge for control via DMX Protocol.