Browse all Categories
LED Lighting for homes & businesses
Colour your home with LED Lighting
Welcome to Litewave ®, registered in 1999. We have been involved with LEDs since the late 80's and love what we do. We are always looking at new ways of lighting and integrating lights into buildings for a clean professional appearance that compliments the architecture, rather than simply sticking a piece of lighting on a wall. Instead of just selling you a product in a box we specialise in bespoke lighting - made to fit your home or business!
View some of our recent projects on Facebook
We have developed most of our high quality LED Lights incuding LED Downlights, LED Strip Lights, Mood Lights, and Fibre Optics. Our products have a proven track record, they offer great value with a high level of reliability.
The products we developed from 2006 onwards are still in use around the world, from people's home, to cruise ships, limousines, bars, restaurants and hotels. We could save you costly mistakes and from buying low class LED Lighting products that are less than ideal.
We can work with you from the initial design stage to the completion of your project. Wiring diagrams and schematics can be supplied with our products making installation fast and easy.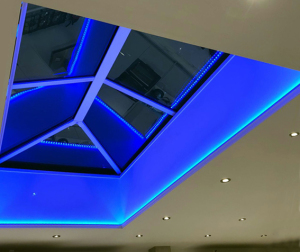 High Quality LED Strips
If you are on a budget we stock the cheaper Standard LED Strips, for use in the home where a long lifetime is necessary the electronics needs to be more precise. In order to provide a long useable life the LEDs must have more than a resistor (as on cheaper strip).
For long use in the home and other archtectural settings we highly recommend using our Professional LED Strip includes up to 130 additional components per Metre to ensure the Strip has a very long lifetime.
COB Dotless Strips
We stock the latest 24vdc COB Strips with 378 LED per Metre which produce a dotless light and can be dimmed from a wall light dimmer.
LED Mood Lighting
Our LED Mood Lighting can be used to create stunning effects inside or outside the home, and business premises. There are various ways of creating ambient or mood lighting effects, from LED Spotlights, to smaller Plinth Lights, Strip Lights, Modules or Fibre Optics to create star-like effects.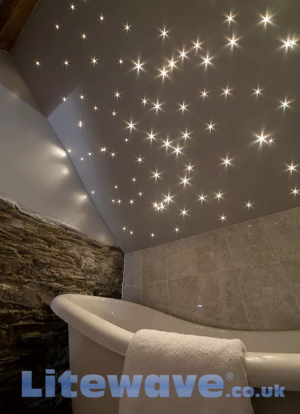 Star Ceilings & Fiber Optics
If you want a lot of small lights without cumbersome wires Fibre Optic Lighting may be the solution. Optical Fibres are thin strands of plastic (or glass) which are designed to transmit light from one end of the fibre to the other by internal refraction, due to carrying no electricity only light the fibres are ideal for creating star or pin point light effects in stairs, ceilings, floors, walls and even outdoors in decking or paving slabs.
Only the projector needs to be waterproof, this projects the light down the fibres, the fibres can go around corners and can even be trimmed to the length required.
We can supply single colour or colour changing Projectors to illuminate the Optic Fibres. The Colour Changing Fibre Optic Projectors can be connected to the same controllers as LED Strip Lights and Plinth Lights for synchronised colour chnaging lighting effects.
Our Projectors are dual voltage so will be unaffected by lengths of cable runs which could otherwise cause voltage drop.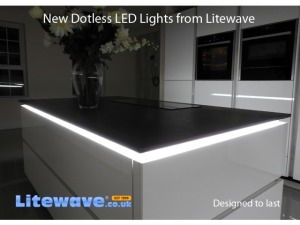 LED Strip Lights
We have developed a range of Strip Lights for lighting bathrooms, ideal for use in niches and alcoves, kitchens for under plinths and Strip Lights above worktops, and even in decking, our LED Plinth Lights are available in a variety of sizes. Our smallest LED Light is just 20mm in diameter and is manufacturerd from high grade Stainless Steel for use indoors or outdoors, we stock them in single colour or colour changeable.
Discuss your requirements with us and we will provide a solution, feel free to call us on the phone number shown at the top of the website.
Latest Blogs
Thu, 14 Mar 2019

Wed, 13 Mar 2019

Tue, 12 Feb 2019
More Blogs
Most LED Lighting products available on auction sites and even by the majority of legitimate websites are all the same cheaply imported LED Lights and controllers, some are O.K, but many are not worth installing in your home, or business premises. The reason for this is due to the simple design, most have only basic electronics, just an LED and a Resistor, this is a common practice with LED Strips and results in early dimming and patches developing along the length of the strip, where the LEDs have failed due to unregulated current and voltage. This is now outdated, it would be like a phone shop selling you a phone that was designed 10 years ago as a latest design! If you want a product designed to last you need to call us.
Our Professional Constant Current LED Strip Lights have advanced Electronics with Transistors as well as resistors, providing reliability and a true half-lifetime of 50,000+ hour, out-lasting other LED Strips.
We cater for all budgets but we primarily focus on high quality, the LED Strip Lights we sell are amongst the highest quality in the world, yes they are more expensive but they will last many times longer than the strip lights found elsewhere.
Have a room you want to light around the perimeter? We can help. Call or email us with the measurements and we can supply our branded LED Strips made-to-measure.
All of our products are stocked here in the U.K and ready to buy direct from our website or order via the phone. A bespoke service is available if you have specific lighting requirements such as LED Strip Lights made to fit a specific area inside or outdoors. Our products are easily controlled all from a single Remote Control or Touch Screen device such as Tablet or Smartphone.