How to control tens or hundreds of Meters of RGB LED Tape
Our Litewave Professional RGB Constant Current LED Strip is ideal for commercial use where large installations of RGB/w LED Strip Lights are required. Constant Current LED Strip uses on-board transistors to regulate the voltage and current to the LEDs, this ensured even brightness, colour and a very long lifetime.
RGB LED Strip & LED Tape (Waterproof) can be controlled by DMX 512 via our DMX Bridge or by our ZEN System with built in lighting control and Zones. The ZEN allows different scenes to be set with each Zone being independently controllable.
Our RGB LED Strips are not limited to a 5 Meter run like amateur systems but tens or hundreds of meters can be controlled via our passive wiring system. To date 1200 Metres is our largest installation, running from a DMX Control system set up in a similar way to the diagram below. The system is designed and manufactured in the U.K, it is a proven system that we have been selling since 2004. It is technologically superior to most systems on the market especially those from the far east.
The Diagram below shows how to run 72 Meters of RGB Tape from a single Controller. This can be decreased or increased by using less or an additional Power Supply and Flexidriver for every additional 18 Meters of LED Tape you need to run. In effect there is virtually no limit to how much LED Strip can be controlled this way.
We can also control large installations of LED Strip from Smartphones & Tablets.
Powering Tens or hundreds of Metres of LED Strips for large installations in Hotels, Conference Rooms, Restaurants etc.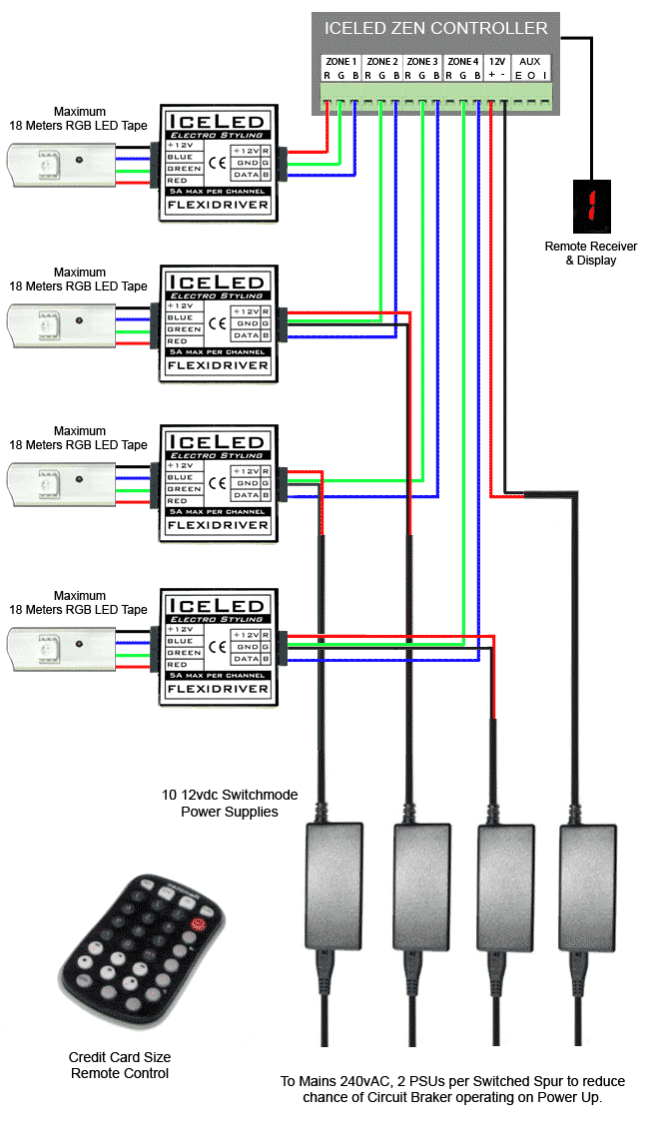 We consistently supply commercial shop fitters and electricians that have recognised they cannot afford to fit inferior LED Strip or Controllers, the risk of faults and product failures which is all too common with the majority of the cheap products being offered far outweighs the lower cost.
Our ZEN System can control not only our RGB LED Strip but also our Stainless Steel RGB Spotlights, Fiber Optics, Modules, and Digital LED Tubes. One remote controls everything with variable colour ranges which can show corporate colours, customisable colour palettes and even sound to light control. This is all built into a single ZEN Box measuring approximatey 100mm x 100mm with a depth of just 50mm. The Infra-Red Receiver also doubles up as a display which can be located some distance away from the ZEN Box so that it is in line of sight of the remote control. A sight glass can also be provided free of charge when the display needs to be set into a wall.
The ZEN can even be set to resume it's last setting by simply switching the system on at a wall light switch, this allows the remote control to be left in a drawer until the settings need to be changed. This is ideal for restaurants and commercial venues such as conference centers where any member of staff can switch the system on. It can even be wired to a PIR Switch to activate the system automatically when someone walks into the room.
---
We offer pre-sales advice. If you have a lighting project or installation please email or telephone us with your requirements and we will provide a no obligation quotation for the exact products you will need for a successful installation.