Kitchen Lighting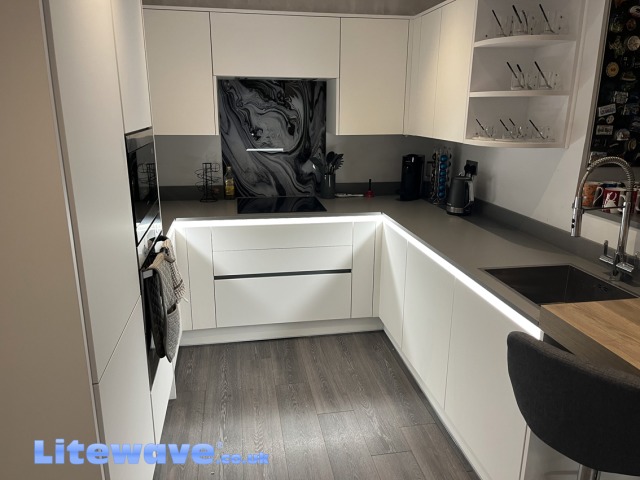 Enhance your kitchen's ambiance with our LED Strip Lights! Even the best kitchens can appear dull without proper lighting.
Our kitchen LED strip lights can make a massive difference by brightly illuminating the worktops. Choose from strips supplied in a protective aluminum channel for a sleek and factory-fitted appearance, while protecting the LEDs from moisture and grime. Discover the perfect lighting solution for your kitchen today!
We can supply bepoke made-to-measure Strip Lights to fit any Kitchen size. Our Strips are of a higher quality than you will find from Kitchen companies, and will most likely be more cost effective. Let them stay in the Kitchen, we're the lighting experts!
Our Litewave Pro Strips are backed with a 6 Year Warranty.
Choosing LED Strips for Kitchens
In addition to traditional white down lights, there are 4 Main ways of creating good lighting for your kitchen:
Click Here for more information
More Information
Kick board /Plinth Lights under the kitchen base cabinets.
Kitchen LED Strip Lights will create a wash of light for a floating-on-light appearance. The LED Strips can be single colour or colour changeable, you even change the colour from a Smartphone or Tablet.
Points of lights in the kick boards / plinths
Our single colour or colour changeable Plinth Lights are ideal for this, we have a variety of sizes and finishes available.
Strip Lights in the Kitchen Ceiling
This is done by fitting LED Strip into an Aluminium Channel, the Aluminium Channel can be surface mounted, for a better finish, we have a Plaster-in Profile. This creates around 1000 Lumens per Metre - equal to a 36w Fluorescent Tube, but our Strip uses a mere 9.6 Watts of power per Metre.
Kitchen Work Surface / Task Lighting.
Traditionally halogens and fluorescent tubes have been used to accomplish this. Our Samsung LED Strip is one of the best options available. It is bright and will last longer than most other LED Strips currently on the market. It can also be dimmed from a wall dimmer using our range of Mains Dimmable Transformers.
Any of our Non Waterproof LED Strips can be set into our Aluminium Profiles for a factory finished appearance.
If you are on a budget or need something very compact you could use our Mini LED Screw Lights, they are tiny and produce a large amount of light for their size, they are available in packs of 10 and work out at just £1.40 each!
For lighting inside cabinets we recommend using our Slim 1 Watt Modules or our LED Strip Lights (shown above).