Customer install and review of Litewave 120 LED/M Strip
Thu, 12 Jan 2023
Litewave Review – Under-cupboard kitchen LED strip lighting. (*see photos).
In 2019 I bought some "colour change" LED light tracking, from Litewave, which has performed well.
To upgrade my "under-cupboard" lighting, I checked Litewave's website in mid December 2022 and found some
LED track
which suited
I measured the aluminium tracking ("measure twice, cut once"!) and cut it to length, then fixed it using double-sided tape. The tracking is not heavy so it was easy to hold it in position under the cupboard like this. This double-sided tape was the only "extra" needed to complete the project.
The two end caps were different: one had two small holes in it to pass the wiring through and this had to be fixed onto the end of the tracking "at the correct end".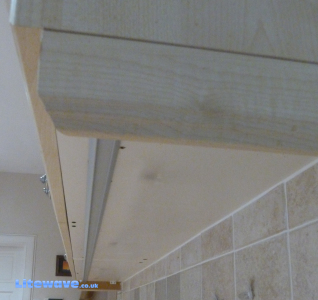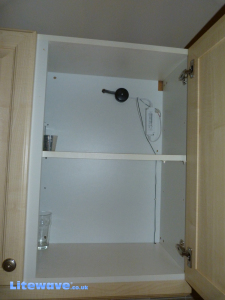 The Litewave
120 LED light-strip
has a self-adhesive backing with paper cover: I cut it to length, passed the wires through the end-cap. I then carefully removed the paper-cover to stick the light-strip into the groove in the aluminium tracking. By doing this a couple of inches at a time, it was easy to ensure the light strip is fixed into the tracking correctly.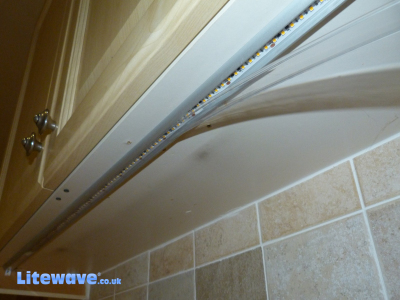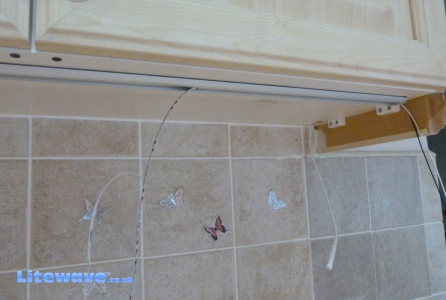 Once the light strip was in place in the tracking, I repeated the procedure for the clear tracking strip, which goes in place over the light strip to aid with occasional cleaning. The final part of the procedure was to run the wires from the strip up the inside of the cupboard, having previously fixed the transformer in position by the mains access terminal using two screws (not supplied).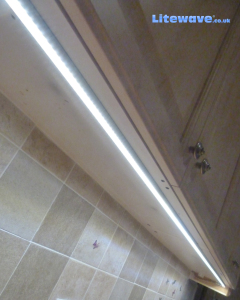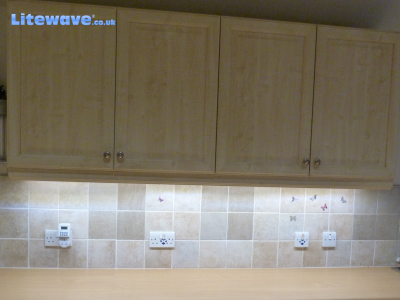 With the mains fuse tripped "off", I then screwed the transformer wires into the lighting mains terminal and replaced the cover. An electrician friend confirmed everything was correctly wired; we then re-set the fuse and switched on the mains. Et voilà everythingworked perfectly. 100% recommendation for Trevor and Litewave!
Patrick (Scotland)
December 2021
Link to this article from your website
Link to this article:

Embed article link: (copy HTML code below):