What are COB LED Strips and why are they worth considering?
Thu, 06 Jul 2023
If you're looking for a high-performance LED lighting solution, you might want to consider
COB LED strips
. These strips are built with Chip-on-Board (COB) technology, which is a type of LED packaging that offers many advantages over traditional LED strip designs.
What is COB Technology?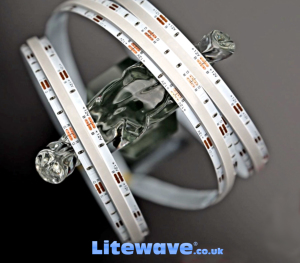 COB technology involves mounting multiple LED chips directly onto a circuit board to create a high-power, compact lighting source. Unlike traditional LED strip designs, where individual LED chips are mounted onto a ribbon-like substrate, COB technology allows for more LEDs to be mounted in a smaller space, resulting in a higher intensity light output - without the usual points of light associated with traditional SMD strip.
Advantages of COB LED Strips
Here are some of the advantages of using COB LED strips:
Dotless Appearance: COB LED strips have a dotless appearance due to the close proximity of the LED chips. This creates a seamless and uniform lighting effect that is aesthetically pleasing and ideal for applications where a clean and modern look is desired.
High Brightness: COB LED strips have a much higher brightness than traditional LED strips due to the concentration of multiple LED chips into a small space. This makes them ideal for use in applications where bright, high-quality lighting is required.
Better Color Mixing: COB LED strips also offer superior color mixing, resulting in more uniform and consistent lighting. This is due to the close proximity of the LED chips on the COB substrate, which allows for a more even distribution of light.
Energy Efficient: COB LED strips are also very energy efficient, consuming less power than traditional lighting sources while providing more light output. This makes them an ideal choice for those looking to reduce their energy consumption and costs.
Easy to Install: COB LED strips are typically very easy to install, with many models featuring a self-adhesive backing for easy attachment to surfaces.
Long Lifespan: Finally, COB LED strips are known for their long lifespan, often lasting up to 50,000 hours or more. This makes them a great investment for those looking for a long-term lighting solution.
Applications for COB LED Strips
COB LED strips are used in a wide range of applications, including:
Domestic lighting - Set into Aluminium Channel between Ceramic Tiles for that 5 Star Hotel appearance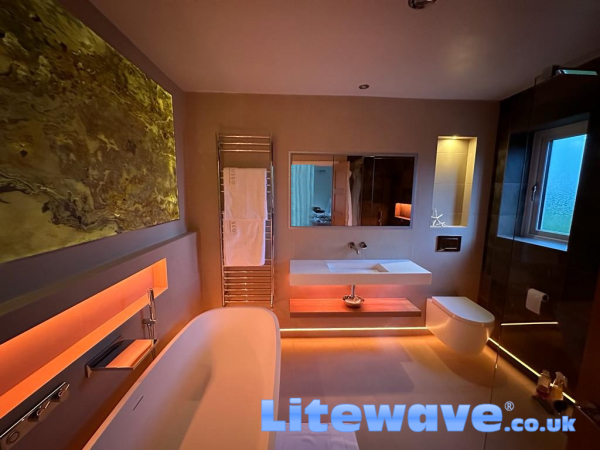 Retail lighting - The dotless appearance when viewed directly gives the Strip a new more modern appearance.
Signage and displays - The the reflected light will create a different appearance to items underneathsuch as Jewellery, Crystal, and Ornaments.
Vehicle Lighting - Diffuser are not required for the Strip so it lends itself nicely for interior lighting or Motorhomes
Outdoor lighting under wall copings
Mood Lighting for homes and chillout areas
Link to this article from your website
Link to this article:

Embed article link: (copy HTML code below):