Current and Voltage Regulated LED Strip
Mon, 07 Apr 2014
Our new Current and Voltage Regulated LED Strip has two dedicated on-board transistors and two resistors to regulate both current and voltage to each LED, by doing this every single LED is powered at optimum brightness whilst keeping it's temperature below the manufacturers specification resulting in a long lifetime beyond 50,000 hours.
Particularly suitable for the discerning customer that wants a highly reliable LED Strip. Where long term reliability without decreasing brightness is not an option this product is the only choice.
All and we mean all other LEDs Strips without the additional components on-board this LED Strip will lose brightness after several thousand hours of use. If you want to install LED Strip again after several years incurring inconvenience and cost then don't buy this LED Strip.
Used for high-end installations in homes of our customers that want the best quality available. A 3 Year Warranty including commercial use is includes with our Constant Current LED Strip.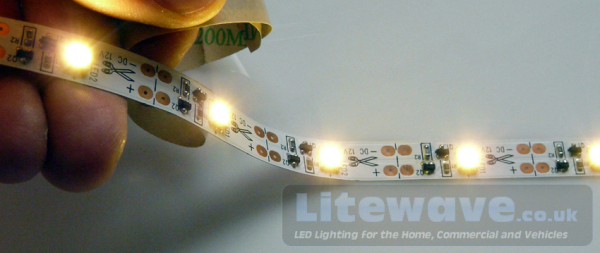 It is now possible to run a continuous length of 10 Meters of this regulated LED Strip without any loss in brightness, the entire length will be illuminated to a uniform brightness.

There are cutting points at every 33mm, each LED is in it's very own circuit making the product perfect for retrofit applications. For example you may have a project where only one small bright LED is needed, simply cut a small 33mm segment from the length of LED Strip and solder 2 power wires to it, then connect it direct to a battery* or one of our 12vdc Power Supplies (transformer) for use via 240v mains.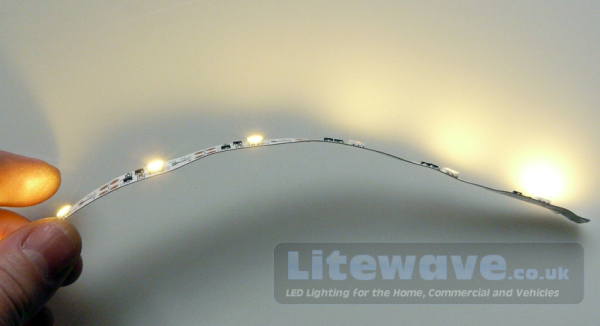 The constant current circuitry results in a much more stable product that can be used on voltages up to 15vdc without having a detrimental affect on it's lifetime, a must for some vehicle installations such as boats or cars where the charging circuit can cause battery voltage to peak at higher voltages.

* For use on a vehicle battery (or any battery larger than standard household batteries) a fuse as near as possible to the + battery terminal is essential.
Compatible with Lutron, Rako, Crestron, and Dali
Link to this article from your website
Link to this article:

Embed article link: (copy HTML code below):