Lightbox 2 - Colour Controller for Smartphones and Tablets
Sun, 20 Mar 2016

The World's smallest Smartphone Colour Controller has been superceded by Lightbox 2. It measures just 34mm x 40mm x 20mm including the connection terminals. Lighting control is made extremely simple, just download the free App to your compatible smartphone or tablet, then open the app. The App will detect up to 250 Lightboxes in the vicinity and will allow each to be given it's own name for quick identification.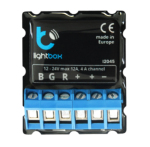 Colour control is all done from an on-screen colour picker, just select the colour you want and that colour will be displayed on the connected light source/s. If you want a pastel colour you can use the slider below to reduce the intensity of the colour, warm white is also possible by selecting yellow and reducing the colour depth. There is also a slider for brightness control.
An automatic colour change is available by selecting the RGB or Rainbow mode with 2 control options for the speed of colour change.
It's small stature does not mean a compromise in power or function, it can now handle a higher load of 12 Amps at 12vdc (144 Watts), it's predecessor had a total loading of 8A (96w).
This means it can run even more LED Lighting than before using Bluetooth 4.1 LE (Low Energy).
144 Watts equates to 20 Metres of our Colour Changeable (RGB) Constant Current LED Strips or 200 of our Colour Changeable Plinth Lights, the light sources can be mixed. For example you may want colour changing Light Strips to illuminate some cabinets and Plinth Lights in the kickboard, simply connect them all to the same output of the Lightbox 2.
While that will meet the needs of most of our customers if you have to control a lot more of our Strip Lights such as for a Home Cinema room, large hallway or a commercial application such as a Reception Area or Conference Room the system is expandable by using an Ampbox.
An Ampbox takes the RGB colour signal from the Lightbox and duplicates it to run an additional 180 watts of lighting. It may be necessary to control a 100 Metres or even a 1000 Metres of RGB LED Strip, this is easily accomplished by using multiple Ampboxes connected to the output from the Lightbox, each Ampbox handles it's own load from a dedicated Power Supply (Transformer). This makes it possible for all of the Strip Lighting to be controlled from a single App on a tablet or smartphone running on iOS8 or Android 4.3 (or later).
Below is a basic schematic showing how 30 Metres of our 30 LED/M Strip can be controlled from just 1 Lightbox and 1 Ampbox, certain details have not been shown on this diagram to keep it simple. These details are required for a correct installation, we supply them to customers purchasing our systems, we don't publish them to the internet.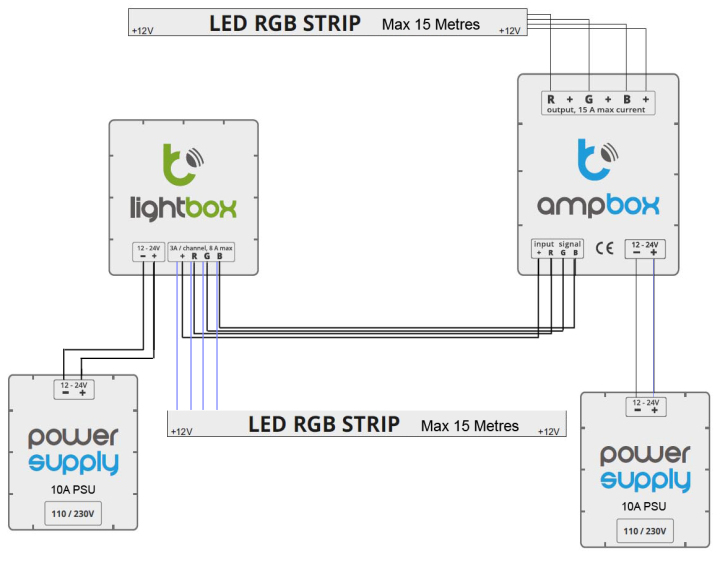 The Lightbox range and Ampbox are designed and manufactured in Europe to exacting standards, this ensures maximum long term reliability and safety.
Link to this article from your website
Link to this article:

Embed article link: (copy HTML code below):