Plinth Lights - Reliable Electronics
Tue, 03 Oct 2017
We launched our 39.5mm Colour Changeable LED Plinth Lights about 4 years ago. Some of the first were installed in a shower room in February 2014, about 3.5 years ago, they are still bright and display all colours. They're reliability is due to the On-Board Current & Voltage Regulation, this consists of regulating diodes, transistors and resistores. Unfortunately for consumers most LED Plinth Lights / Decking Lights or (products performing the same function) on the market consist of just Resistors to protect the LED, this does not guarantee a long lifetime of 40,000 hours or more as with our 39.5mm Plinth Lights.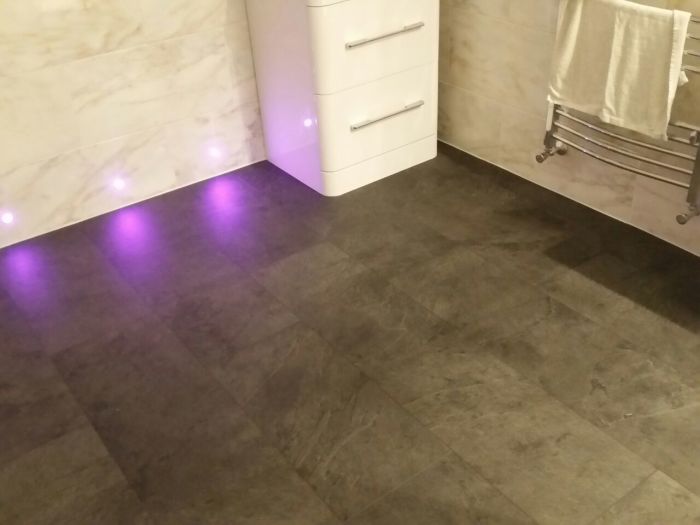 The Lights shown above are connected to a colour controller, the colour controller is connected to a safe low-voltage 12vdc Power Supply (Transformer), in-turn the Transformer is controlled from a Motion Sensor in the Ceiling, and that is connected to a wall Light switch.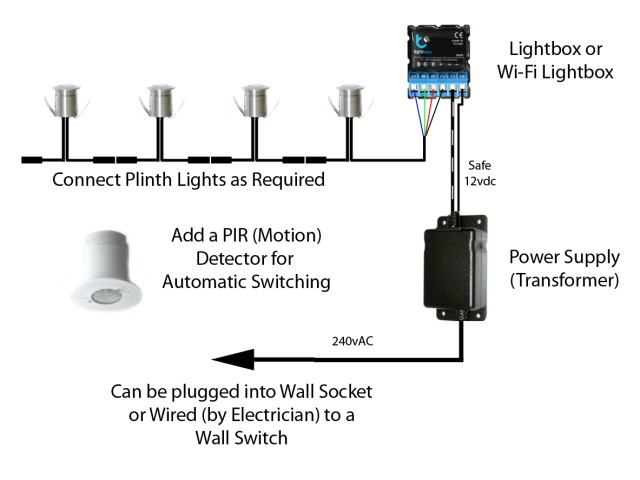 The wall switch is next to the switch for the main Downlights, in effect giving Main Light and Mood Lighting On/Off Control. The Motion Sensor in the ceiling provides an automatic Night Light system, so in the early hours the person entering the room is greeted by a low level light rather than blinding downlights. The delay time of the sensor can be set from 40 Seconds to 40 Minutes, the Power Supply and Plinth Lights will be switched off after the pre-set time.
We can advise on controlling any of our LED Systems this way.
Link to this article from your website
Link to this article:

Embed article link: (copy HTML code below):